I
It has been 15 years since we left for France full of plans and high hopes. With all our possessions, two young children and a dog, we took the plunge to a different life. Not because our daily life in the Netherlands was bad, but we wanted a different life that might offer more freedom and space. And given the age of our children, 8 and 11, we felt it was now or never.
Our house was sold, the furniture was in a big truck and, as soon as the deed of sale was signed at the notary's office, we headed south. All the stress of the past few months came together on that drizzly Monday morning when we left. It suited how I felt. With a fully packed car and caravan, (the latter borrowed from my brother), we set off on the adventure. The house we bought was still inhabited by its owner, so we spent the first two weeks at the nearest campsite, in the caravan. And it was raining! Oof, not exactly how I had imagined the exciting start of our move.
A knot in my stomach
Once in our house with all the furniture and belongings, reality set in. We were busy with all kinds of things at once. Meanwhile, the children went to school in the village, which is seven kilometres from our house. I still think of that horrible knot in my stomach when we first brought our children to the new school. They spoke three words of French; why did we want this? It was more difficult for us than for them; they adapted very quickly and spoke French fluently in just three months.
The infamous French bureaucracy will come your way sooner or later. The words that fit it well are: viscous, cumbersome and voluminous
Grubby, plastic tablecloths
We had several plans to start an agricultural business. We bought a former farm with 6 hectares of pasture and 12 hectares of forest. We wanted to keep cows, Blondes d' Aquitaines, a meat breed that is mainly kept here. Or grow kiwis or other crops. It was not all very concrete and in the meantime there was also a lot of work to be done on the renovation of the house. The construction of a camping site - our second activity - had to wait for the time being. So, more plans than money...
Because we are quite isolated, having neighbours is not only cosy, but also very necessary. People rely on each other for all kinds of odd jobs. Zealous neighbours with material such as a tractor are more than welcome if you want to get something off the ground. The "entraide" (= mutual aid) is part of the tradition in the countryside. A good relationship with the neighbours is indispensable. We have invested a lot in this. We spent a lot of time at kitchen tables with grubby, plastic tablecloths and drank a lot of old, heated coffee. But everyone always took the time and trouble to talk to us and think with us. All farmers and all equally practical.
The infamous French bureaucracy
Fifteen years ago, the advantages of Europe started to become apparent; moving within Europe was actually not such a big deal. Many things do run more smoothly, but the infamous French bureaucracy - I think they invented the term here - does come your way sooner or later. The words that fit it well are: viscous, cumbersome and extensive.
A number of things simply have to be arranged and then you have to deal with that enormous mountain of paperwork. Think about child benefit, bank, insurance, health care, taxes and permits. And you go there with your best French, and a dictionary (we didn't use smartphones back then). Hoping that you would find a willing official who was having a good day and wanted to help you on your way. Most of the time, they succeeded and after a sweaty hour, you were outside with a stack of papers and the mission seemed to have been accomplished. But especially in the beginning, all that red tape is getting out of hand and it takes so much time that you wonder if it will ever get better. Once in a while, 'the system' surprises you: things go quickly, smoothly and automatically. For a moment, some things seem better organised than in the Netherlands. Fortunately, as a European, you have a privileged position, although you are still often considered a 'foreigner'. Despite the fact that this is not in accordance with European treaties and agreements, you have to indicate that you live here and according to the administrative and fiscal system you really are a European resident, established in France. Very tiring and time-consuming. Constantly sending copies of your passport, your marriage booklet or your 'Carte vitale', the French version of a 'Social Security number'.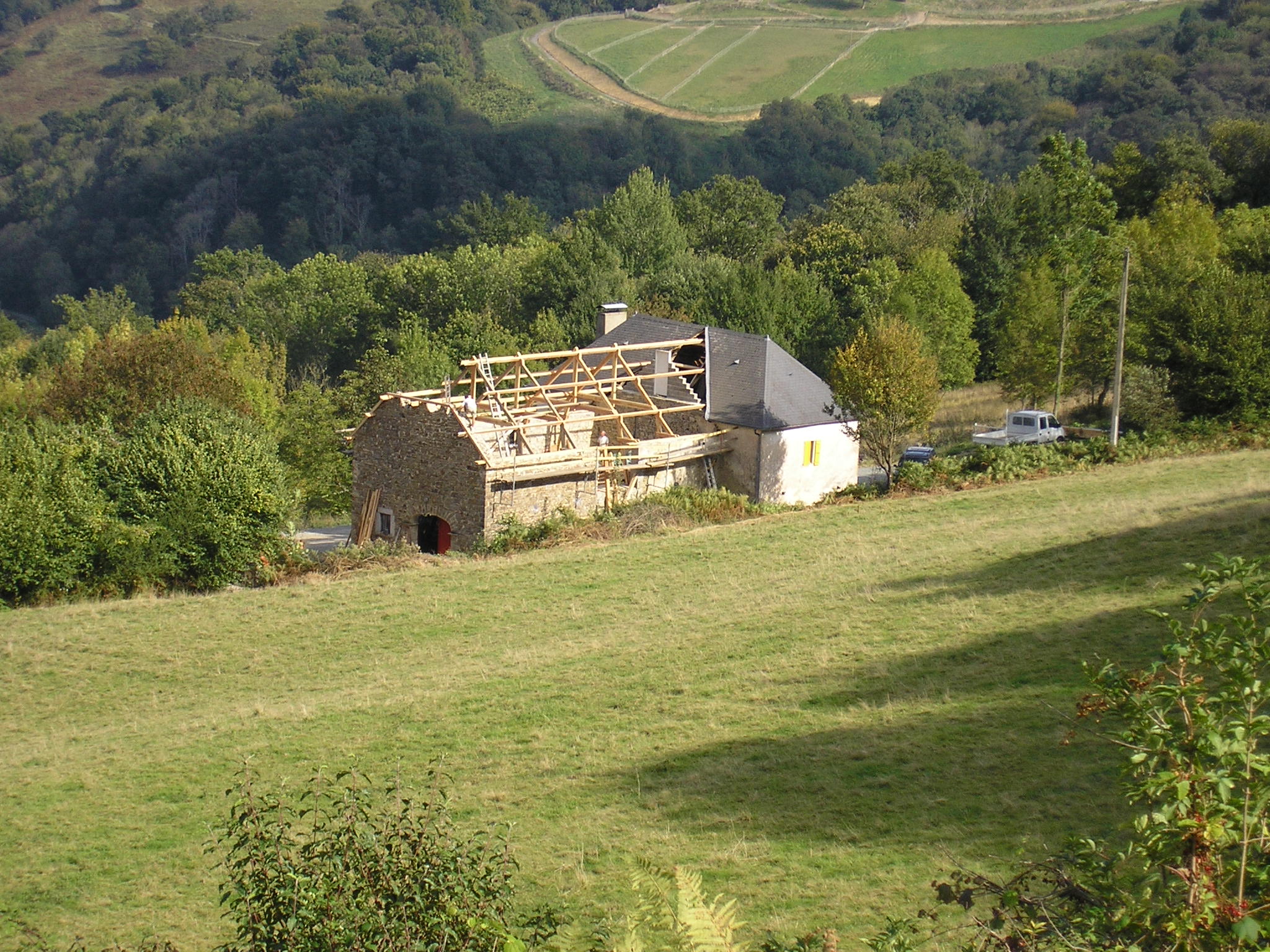 Plans and permits
But despite all the administrative fuss, the plans went ahead and we enjoyed the space, the landscape, the weather and the friendly fellow villagers. The plans became more concrete and we received a permit. The hayloft of the barn was the first plan. A new roof had to be put on and the whole thing would be transformed into a holiday flat; a gîte. An expensive project. But it would eventually bring in money. Fortunately, my husband is a very handy handyman and had already done a renovation in the Netherlands. Everything he could do himself, he did himself. Apart from some small jobs, that was really everything. It took more than a year. Everything was focused on that project, so the camping à la ferme project was postponed.
Social worker in France
In the meantime, I had to find work to pay the fixed costs. My French was not perfect, so after a French course, a kind of integration initiative by the state, my options, in the middle of the countryside, were still limited. With a 'spruced up' CV, in which I added a little to my experience with the elderly, I was able to start working in the village as a home help. It was the best way to start speaking French better and to get to know half the village and its family. Loneliness is a common phenomenon in the countryside. Family and children live far away so that they cannot visit their parents regularly. I, as an exotic Dutch person, could count on the undivided attention of the clients. Doing the housework was always secondary to my task as 'companion'. Infinite cups of coffee and tea, or something stronger, and a lot of talking, so my French quickly caught up with me. And yes, everyone in the village now knew who we were and what plans we had. They found that at the very least remarkable: to start a campsite and a gîte in such a small Basque village? Maybe a village where you were born and raised is not that interesting anymore for its inhabitants, but in our eyes, this was the most beautiful place in the world! Beautiful mountains, authentic villages, views, green valleys and an incredibly beautiful, unspoilt nature. Surely more people should enjoy this?